Jo Loves: a path from past memories
As you step in to the charming boutique in Elizabeth Street London SW1, you are greeted with a friendly image of Jo Malone and her smile. I was immediately greeted by Jane, a friendly bubbly lady who was happy to take me through all the fragrances and tell me some snip-bits of Jo and her story to create her memories in a new fragrance brand.
Jo Loves is a homage to her fragrant souvenirs, starting with Pomelo a fresh perfume of grapefruit zest's and fresh breeze. An overall easy fragrance which is the best seller today, and a loved favourite. There are twelve fragrances in all, which I brought down to 3 sets of 4.
The four citrus essences:
Jo has created fragrances that seem simple with a single accord, but as they develop, the notes become more sophisticated and one, whom has a refined nose, will see the subtle and pretty noters blend to bring the magical creation to life:
Pomelo,
Mandrine,
Green Orange Coriander,
Mango Thai Lime.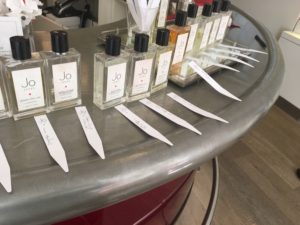 The Next Four are My favourites, and I have left the boutique wearing all of them to live and feel caressed by their magic:
White Rose Lemon leaves
Red Truffle 21
Pink Vetiver
Gardenia Jasmin
The White Rose Lemon Leaves, is a beautiful subtle walk in a floral garden, the soft creamy notes just caress the skin and envelope you with a powerful floral accord, that is no English Rose, but again, is. It is quite enchanting, and despite me not liking florals, this is entreguing me on my skin, after 3 hours I am still inlove!
Red Truffle 21 – I have never been a truffle fan, although I understand the exceptional powers it has in giving fragrance to food. Obviously I love a truffle risotto, and my dear Tim when in Saint Tropez gave me one which is shaved into slices in my freezer to add to any meal. This fragrance with
on the blotter is a total experience on the skin. I am just loving how it is warm and round and so soft. Do try and live the sensation that it evolves on your skin.
Pink Vetiver is an inspiration of Jo and her father in Eau Sauvage!. A fragrance so delicate, yet with the strength and presence of vetiver. I would definitely love to love a man with this on, even though a strong lady could perfectly wear too. I have a penchant for stronger fragrances, Coromandel from Chanel being my love for the last 10 years, but I am intrigued and attracted to it..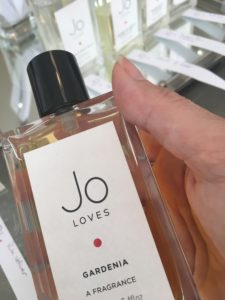 Gardenia,
WOW this is my favourite, nothing to say, just soft creamy gardenia with jasmine and ylang ylang to give it body and richness. It reminds me of those massages in Isle Maurice…oh the souvenirs, I close my eyes and dream…..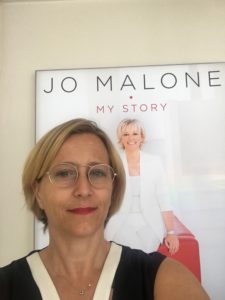 The last four fragrances are sophisticated and very creative in the fragrance accords. 2 are more floral: Fresh Sweet Peas, with the Jo's signature of freshness and breeze, and the, surprisingly, No42 The Floral shop, where, if you close your eyes, you will be transported to a florist (yes Jo once worked in one) where you can see the stems of fresh cut flowers. The other two have a strong presence, perhaps more adapted for those who wish to give an impression. One is in a forest with cedar wood, another or in a leathery "atelier" with notes like incense and smokiness of deep plum and cognac.
Fresh Sweet Peas
N42 The Floral Shop
Shards of Cedar
Smoked Plum and Leather
I am now reflecting on which is my favourite, and just want to sit down with a lovely cup of tea and read her book, which was beautifully wrapped, so I really feel I got a great present today.
Thanks Jane for the story and time you gave me in the shop, I was beautifully enchanted, and will come back for a Candle and tapas experience….